"Some see weeds, others see wishes"
Services
Types of Treatment
Ages 3 to 21 for therapy, all ages welcomed for trauma informed yoga
Throughout treatment your therapist will utilize various types of treatments and modalities as clinically indicated. The descriptions provided below are not all inclusive of the types of methods that may be implemented throughout treatment.
The intention of these descriptions is for our clients to have a better understanding of the services that Breathing Through Counseling and Wellness Services offers.
If you have any questions about or a particular interest in a specific treatment please ask your therapist.
Cognitive Behavioral Therapy (CBT):  A therapy that focuses on changing negative thought patterns about the self and the world, in order to alter unwanted behavior pattern(s) or mood(s). CBT focuses on the development of personal coping skills to solve current problems and change unhelpful thought patterns.  CBT is most commonly used for anxiety and depression but can also be utilized for treatment of other conditions.
Trauma-Focused CBT: An evidence-based practice created to assist children and their families to overcome the negative effects of trauma. This modality is very structured and caregiver participation is an essential component. Core components of TF-CBT are: psychoeducation, creating effective coping skills, creating a trauma narrative, mastery of trauma triggers, parent-child sessions, and developing a sense of future safety. Prior to beginning TF-CBT your therapist will review and explain the protocol in-depth.
Dialectical Behavioral Therapy (DBT): An approach that focuses on helping clients increase their ability to regulate their emotions and reactions to triggers.  DBT concentrates on identifying coping skills to change thoughts, feelings, and behaviors to help avoid undesired reactions. Core components of this modality are mindfulness, emotional regulation, and distress tolerance.
Play Therapy: Therapeutic intervention where play is used as way to help child integration, developmental growth, emotional modulation, and trauma resolution. Play can also be used to model appropriate behavior and practice new skills. This approach can be utilized with both verbal and non-verbal children as well as adolescents.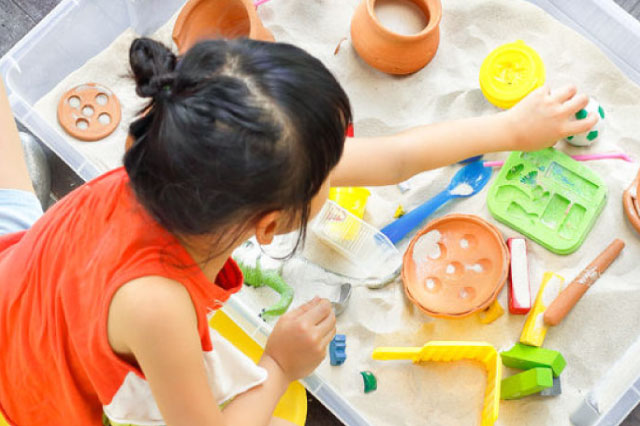 Sandplay Therapy: A form of play therapy that makes use of a sandbox and toy figures to create miniature worlds that reflect the client's internal thoughts and struggles. As this approach allows for non-verbal communication, it allows clients the opportunity to share their stories without the fear or shame that can often accompany verbalization. For this reason, sandplay is often used for those who have suffered from various forms of trauma.
Solution-Focused Therapy: A goal-orientated approach that focuses on the client's present and future circumstances rather than on past experiences. In solution-focused therapy the therapist assists the client in identifying their goals; as well as, detailed descriptions of what accomplishment of those goals will look like.  Once these goals are established the therapist and client work together to create solutions that effectively allow the client to accomplish their goals.
Family Therapy: A therapeutic approach that can help family members improve communication and resolve conflict.  Family therapy can be useful in any situation in which a family is experiencing stress, grief, anger or conflict. Family therapy uses combinations of other therapeutic modalities as appropriate for the family's specific situation.
---
FREE 10 Minute Phone Consultation
It is important to ensure that your therapist is the right fit for you or your loved one.  For this reason, Breathing Through Counseling and Wellness Services offers a free 10 minute phone consultation.  This enables potential clients to get a better understanding of the therapist's theoretical perceptive; as well as, inquire about the therapist ability to address their individual needs.   Please contact Breathing Through Counseling and Wellness Services at (209) 423-9333 for your free consultation.
---
Fees
Breathing Through Counseling & Wellness Services currently contracts with the
following insurance providers:
Lyra : Prior to scheduling an appointment please contact Lyra to verify that you or your child is eligible for services, your co-pay, and deductible, if any.  Please note: It is the responsibility of the client or client's parents to ensure that they continue to remain eligible with Lyra at the time that the service is rendered.
Out of Network: For all other insurance providers, Breathing Through Counseling & Wellness Services is considered an out of network provider. This means that we do not directly bill insurance companies that we are not contracted with. Therefore, all costs are paid for by the client or their representative at the time of service. Some insurance providers have out of network benefits, which means they may reimburse some of your out of pocket cost. To inquire about out of network benefits, please contact your insurance provider directly. Further down the page, we have outlined some questions that you may find helpful to ask your insurance provider when exploring out of network benefit.
Fees:
$175 per initial intake/assessment (50 minutes)
$150 per individual session (50 minutes)
$150 per parent coaching session (50 minutes)
$225 per family session (60 minutes)
$225 per supervised visitation (60 minutes)
Payment is due at the time of service, at the beginning of the session, in the form of cash or check. Receipts provided upon request.
Out of Network Benefits:
It may be helpful for you to find out if you have out of network benefits. Depending on your current health insurance provider or employee benefit plan, it may be possible to seek full or partial reimbursement for the cost of the session(s).
When exploring out of network benefits we recommend asking the following questions to your insurance provider:
● Does my health insurance plan include behavioral health benefits?
● Does my health insurance plan provide coverage for out-of-network
providers? If so, what does that process look like and what is required?
● Do I have a deductible? If so, what is it and have I met it yet?
● Does my plan limit how many sessions per calendar year I can have? If so,
what is the limit?
Please note the following: As we do not bill insurance providers, with whom we are not contracted with directly, payment is due at the beginning of each session. Fees are payable by cash or check. Upon your request, a receipt (also referred to as a super bill) can be provided. On that receipt, there is a section for what's called a CPT Code and a diagnosis code. If you are deciding to submit this to your insurance to seek possible reimbursement, we would include both the CPT Code and insurance code for your diagnosis.
It is important to know that while insurance can lower your cost, insurances typically require we make a clinical diagnosis. This diagnosis becomes a part of your permanent medical record and may have current or future implications. This process is completely up to you. We are happy to discuss the pros and cons of utilizing out-of-network benefits.
Breathing Through Counseling & Wellness Services
1604 Ford Ave., Suite 3
Modesto, CA 95350
Ph: (209) 423-9333
© Breathing Through Counseling & Wellness Services, All rights reserved.